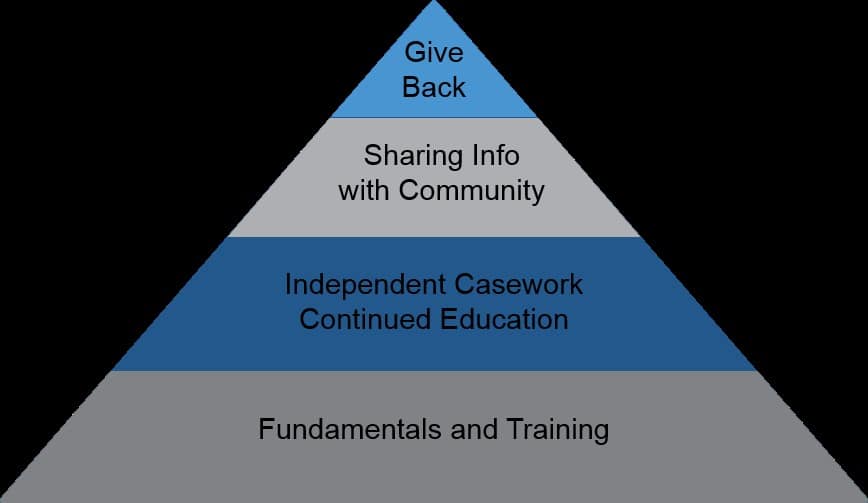 Jessica Hyde's post of Giving Back in DFIR from 2018 is a great write up on contributing to the DFIR community, and I see her post being relevant for some time to come. One thing that I want to add is that of balancing our time in this line of work.
Now, I am not saying that the DF/IR/Infosec world has more stressors than other lines of work, or that one is better or worse than another. So, in that manner, this post can practically be applied to anyone in any career that builds stress.
The two things that I recommend for life-work balance is to do something for others and do something for yourself.
Doing for others
Giving back to your job field
Jessica wrote it best, so refer to her blog post on tips on Giving Back in DFIR. Most likely, there is local association or group that you can join, and if not, plenty of online associations to check out. As many are comprised of volunteers, your call to help the organization will be answered. Giving back helps the organization, the field, and in the same manner, will help you too. You get a little bit of improving your skills by sharing them with others.
Giving back to something to which relates to you, but is not job related
The dab of balance that I am talking about is that of non-tech related giving. Something that can balance against the time you spend in front of a monitor. If you were super excited when you first started this career, and wish to stay excited throughout, you must have some plan to balance it. Self-monitoring is important paramount.
Side story: My first months as a police officer were most exciting as it was new. At the end of every shift, I didn't want to leave the station. I would have stayed in my district 24/7 because I really loved that job as a new officer. Luckily, experienced officers told all of us new officers to go home when the shift is done. The point was succinctly delivered and taken seriously; to not become overly involved or overly invested in a job if you intend on having long lasting satisfaction in the job. When I became one of the experienced officers, that was a point that I carried on telling the new officers: go home when your shift is done.
Giving back to something you are related is for those things you have done in the past (unrelated to your job), but that you can contribute in a different way. For example, if you are a military veteran, do not discount the amazing work that a service organization does in which you can be part. I'm a Marine Corps League member and being part of Toys for Tots or helping a veteran move off the street and into a home is a feeling that can't be reproduced anywhere else. If you were part of any organization in the past, you have a head start in getting involved in something great. Help others who can't help themselves and you will have made the world a better place to live. That better world is your world.
Give time to an interest that you feel strongly about
I'll admit, if I still lived in Hawaii, both my wife and I would be volunteering our time with something like NOAA Fisheries. Helping out marine life like sea turtle and dolphins is something that I find quite cool (and important!). Luckily, living in Washington (State) allows for volunteering for lots of nature projects, none having a lick to do with technology, but makes the world a better place than when I found it. Did I mention that this better world is your world?
Show support for good causes
Given that the DF/IR/Infosec field is darn near a 24/7 callout job, where we are never far from our smartphone, and expected to run out the door at any given moment, time is precious. Spend time with your family and friends to support them and receive support as a priority. But, when time is short and you can't commit to volunteering for a cause, you can always show moral support to the causes that you believe in. Your support, no matter how little effort you need to do, can have a great impact on someone else.
Doing for yourself
This is an easy one. Find a hobby. Any hobby. Except taking naps. Something that makes you happy. Write poems or a book. Hike. Swim. Fish. Fly. Walk. Read. Take classes. Get a degree or get another degree. Do something on a regular basis that brings life back into perspective. Change it up when you want to. Read for weeks and then hike for days or maybe swim on a weekend and walk the next weekend. Whatever you want to do for you. Your personal time is important. Those who only do for others will eventually burn out.
Which is more important? Giving to yourself or others?
The answer is both are equally important. Giving only to one will likely result in failure in both. Take care of yourself and do something for others. The end result is that your DF/IR/Infosec job will be more satisfying, you will be more productive, and you can excel for the length of a career and beyond without burning out.
Look at it this way:
If you can do something that satisfies you, no matter what happens in your world, you can make it better for you.
If you do something for others that they can't do for themselves, you just made the world a better place. And remember, that better world is also your world.